The 'official' campaign season opened this week, but the tremors of politics, local to international, have been rumbling through for months. The battle themes are often focused on being "right" vs getting something done. An interesting local example has been "the Bernie Pledge," a contract proposed by a Santa Cruz for Bernie group to extract promises from City Council candidates in exchange for support by the organization. Their agreement lists specific actions on housing, homelessness, UCSC growth, minimum wage, a Beach Flats garden, and transportation (terms listed below.)

This by itself is unremarkable for Santa Cruz. It was, rather, an insightful letter from Mike Rotkin to the committee that is noteworthy. A leader of the progressive movement and a frequent city council member and past mayor, Rotkin recommends tempering wants and expectations with pragmatism and compromise. The theme of his message is a guide for all of us. At the his message is to work incrementally within realistic, available alternatives… that is, to compromise.

Underlying Rotkin's message are decades of experience that demonstrate addressing serious issues requires incremental solutions each of which has a reasonable probability of working and a reasonable possibility of being adopted.

Locally, best case in point is Measure D, the County-wide transportation funding proposal. Santa Cruz County is among the last 15% of Californians NOT to have adopted a local-option transportation sales tax. What has been developed over years of study and 18 months of hard-fought compromises between interest groups would provide funding that balances those interests.

The Bernie Pledge does not specifically refer to Measure D, however, it insists that its candidates refuse to compromise. The pledge extracts a promise that money not be spent on highways but rather only on rail, trail, and METRO bus service. Rotkin responds:



While highway 1 widening is not high on my list of priorities, especially not funded by City money, the greenhouse gases being generated by 3 hours a day (1 and a half hours in each direction) of a packed highway moving at an average speed of 7 miles an hour generates far more Greenhouse gases than a few longer merge lanes.

What we really need is a dedicated lane for buses so they can get to Watsonville or from Watsonville where most of the City's tourist workforce lives faster than cars get there. METRO buses are stuck in the same traffic and it takes three or four buses now to make the round trip that one bus could make in the same time if the highway were not so congested.

More importantly, the current Transportation measure on the ballot has so much good stuff in it for buses, pedestrians, bicyclists, para-transit, and a future of light rail and it includes some money for highway widening so it can pass at the ballot box.

We have to stop focusing our voting on the one thing we don't want at the expense of the four or five things we do want. Compromise is not always a dirty word (despite what the tea partiers think). So any candidates who sign this pledge are separating themselves from literally every current elected official in the County except two who don't like trains or the rail trail. Absolute policies (rather than relative decisions about not spending a great deal on highway widening for example) demonstrate an inability to govern.



The Chamber's Community Affairs Committee is analyzing local and state measures and will provide analysis of selected initiatives. The Chamber board will review this analysis are recommend measures which they believe are in the best interest of the economic community.

The Chamber hopes a majority of voters… a significant majority… will apply their own values and interests to what promises to be a very long ballot. And that they will temper their final decisions on just the sorts of compromise Rotkin suggests… a pragmatic judgment about the "net good" to themselves and the community.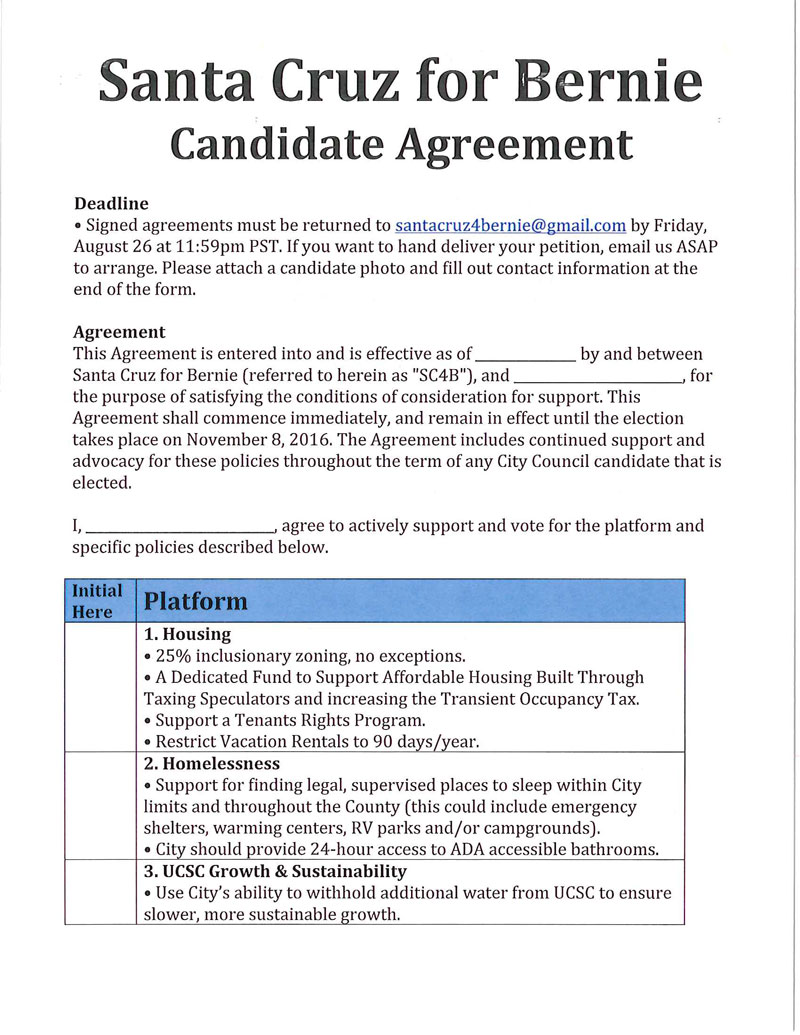 Footnote re the Bernie Pledge. The Santa Cruz for Bernie group received signatures from five of the eleven City Council Candidates. The group has endorsed four of those candidate: Drew Glover, Sandy Brown, Steve Schnaar, and Chris Krohn.